For decades, we've had a deep commitment to the community.
The year was 1933. Across America, the Great Depression was taking its toll on small towns as well as big cities. Mullins, South Carolina, was no exception.
The local economy relied on the tobacco market and farmers who patronized local businesses. There was no local bank, and no "big-city" bank wanted to open a branch in such a small farming community.
The growers faced a real crisis. Without a source of affordable financing, their farms and homes were in jeopardy. Saving the tobacco market was essential to the vitality of Mullins and surrounding areas.
Two brothers, Mr. Ernest Anderson and Mr. Bishop Bonar Anderson, stepped forward. In 1933, they established Anderson Brothers Bank in the back of the Anderson Warehouse in Mullins. Out of a small office, they loaned money to tobacco warehouse owners so they could, in turn, issue immediate checks to farmers following crop sales. The warehouse loans were paid off when major tobacco companies - such as Reynolds, American, and Imperial - purchased product from the warehouses.
Soon after, the small office began offering deposit accounts and eventually moved to Main Street in Mullins. In the late 1930s, the brothers acquired the building where the main office is now located. Over the years, the bank remained a family business. Bert Neal Anderson and Howard Anderson, sons of the two founders, each took a turn as president following the deaths of their fathers.
The decades passed, and Anderson Brothers Bank grew with the times. About two dozen branches sprouted up across the Pee Dee, Coastal and Low Country regions. More services were added for businesses. More savings, checking, and loan options were offered to individuals. When the Digital Age arrived, we kept pace, and today Anderson Brothers Bank offers state-of-the-art Online Banking and Mobile Banking services.
Through it all, we've remained true to our roots. Our commitment to our communities remains unwavering and strong. We're still a place where team members know customers by name, and where business is often conducted on the strength of a handshake. We're still proud to help individuals, families, and businesses as they journey along life's path.
Community banking isn't something to which we merely aspire - it's something we do, day-in and day-out.
Something else hasn't changed - our ownership. During a time when big-city banks regularly acquire smaller community banks, Anderson Brothers Bank remains family-owned and operated. Our leadership team is headed by three grandsons of co-founder Ernest Anderson - David E. Anderson serves as President/CEO, brother Neal is Chairman of the Board, and brother Tommy is Vice President.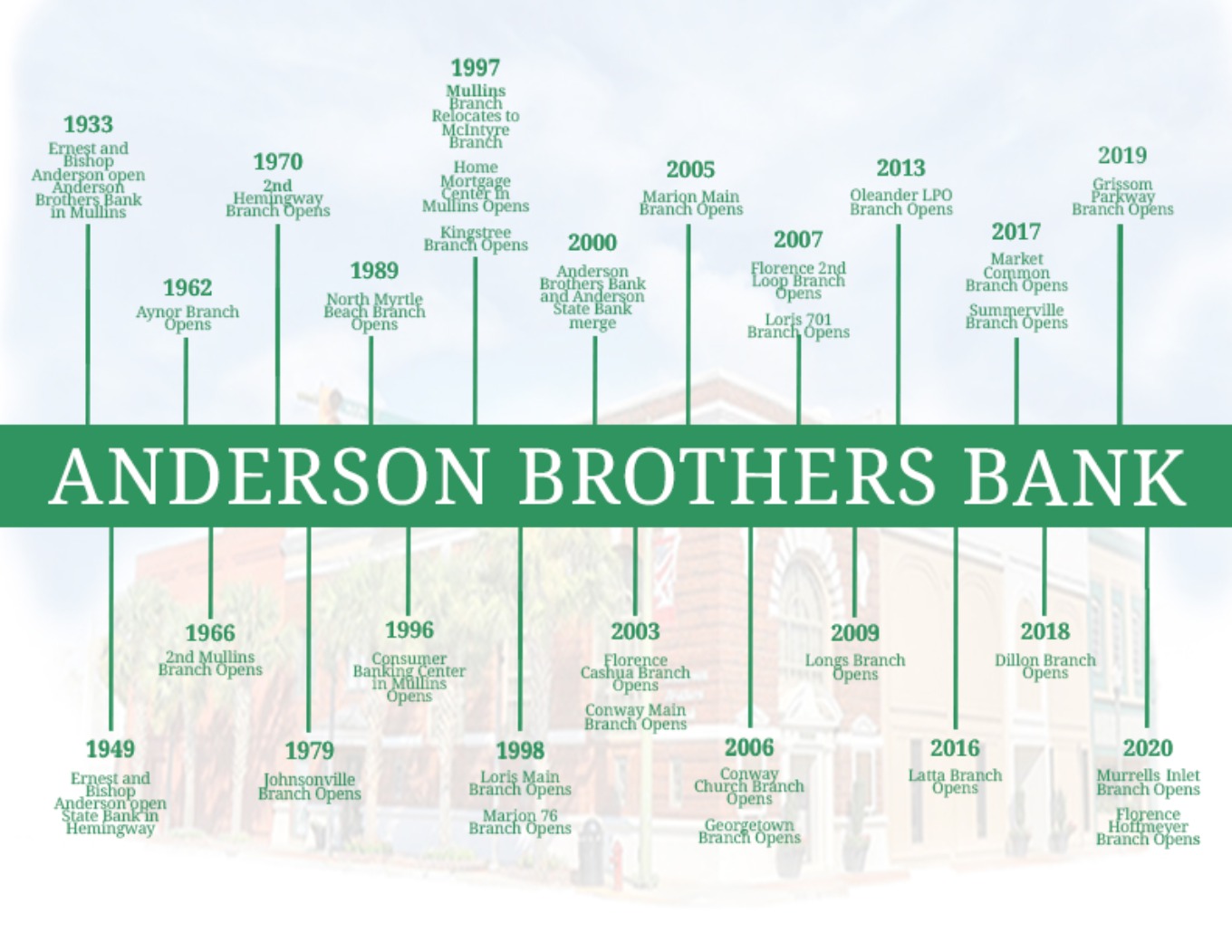 Anderson Brothers Bank is a full-service community bank with branches throughout the Pee Dee, Coastal and Low Country regions of South Carolina.